Category Archives: Ειδησεογραφία

- Page 2
The 6th International Conference on Cloud Computing and Services Science (CLOSER 2016 – http://closer.scitevents.org) steering committee cordially invites you to submit a paper to the CLOSER 2016 Conference, to be held in Rome, Italy. The deadline for paper submission is scheduled for October 27, 2015.
CLOSER 2016 will be held in Rome, Italy, April 23 – 25, 2016.
The conference will be sponsored by the Institute for Systems and Technologies of Information, Control and Communication (INSTICC) and held in cooperation with the ACM Special Interest Group on Management Information Systems (ACM SIGMIS). The conference is also technically co-sponsored by the IEEE CS CC STC and IEEE STC Cloud Computing. INSTICC is Member of the Workflow Management Coalition (WfMC) and Object Management Group (OMG).
We would like to highlight the presence of the following keynote speakers:
– Pierangela Samarati, Università degli Studi di Milano, Italy
– Frank Leymann, University of Stuttgart, Germany
– Peter Sloot, University of Amsterdam, Netherlands; Complexity Institute Singapore, Singapore; ITMO St. Petersburg, Russian Federation
– Verena Kantere, University of Geneva, Switzerland
Submitted papers will be subject to a double-blind review process. All accepted papers will be published in the conference proceedings, under an ISBN reference, on paper and on CD-ROM support.
The proceedings will be submitted for indexation by Thomson Reuters Conference Proceedings Citation Index (ISI), INSPEC, DBLP, EI (Elsevier Index) and Scopus.
All papers presented at the conference venue will be available at the SCITEPRESS Digital Library (http://www.scitepress.org/DigitalLibrary/). SCITEPRESS is a member of CrossRef (http://www.crossref.org/).
Best paper awards will be distributed during the conference closing session. Please check the website for further information (http://closer.scitevents.org/BestPaperAward.aspx).
Workshops, Special sessions, Tutorials as well as Demonstrations dedicated to other technical/scientific topics are also envisaged: companies interested in presenting their products/methodologies or researchers interested in holding a tutorial are invited to contact the conference secretariat. Workshop chairs and Special Session chairs will benefit from logistics support and other types of support, including secretariat and financial support, to facilitate the development of a valid idea.
CLOSER 2016 will be held in conjunction with CSEDU (8th International Conference on Computer Supported Education – http://www.csedu.org), SMARTGREENS (5th International Conference on Smart Cities and Green ICT Systems – http://www.smartgreens.org/), WEBIST (12th International Conference on Web Information Systems and Technologies – http://www.webist.org), VEHITS (2nd International Conference on Vehicle Technology and Intelligent Transport Systems –http://www.vehits.org), IoTBD (International Conference on Internet of Things and Big Data) and COMPLEXIS (International Conference on Complex Information Systems- http://www.complexis.org) in Rome, Italy. Registration to CLOSER will enable free attendance to any sessions of CSEDU, SMARTGREENS, WEBIST, VEHITS, IoTBD, COMPLEXIS conferences  as a non-speaker.
Please check further details at the CLOSER conference website (http://closer.scitevents.org).
Posted by Nikolaos B. Tsigganos on 15/10/2015
Comments Off

on Second call for papers for the 15th European Conference on Cyber Warfare and Security ECCWS-2016 to Committee Members
This is the Second call for papers for the 15th European Conference on Cyber Warfare and Security ECCWS-2016, being hosted by Bundeswehr University, Munich, Germany on the 7-8 July 2016.
This call will close on the 3rd of December 2015.
The 15th European Conference on Cyber Warfare and Security (ECCWS) is an opportunity for academics, practitioners and consultants from Europe and elsewhere who are involved in the study, management, development and implementation of systems and concepts to combat cyber warfare or to improve information systems security to come together and exchange ideas. There are several strong strands of research and interest that are developing in the area including the understanding of threats and risks to information systems, the development of a strong security culture, as well as incident detection and post incident investigation. This conference is continuing to establish itself as a key event for individuals working in the field from around the world.
For more information please go to: http://academic-conferences.org/eccws/eccws2016/eccws16-call-papers.htm
Για να αυξήσει την προστασία της επικοινωνίας με τη χρήση της ηλεκτρονικής αλληλογραφίας η εταιρεία Facebook ξεκίνησε σταδιακά τη χρήση της τεχνολογίας OpenPGP. Οι χρήστες θα μπορούν να δημιουργήσουν το δικό τους Δημόσιο κλειδί προκειμενου να εκμεταλλευτούν τα πλεονεκτήματα της κρυπτογραφίας για την ασφαλέστερη επικοινωνία τους.
Η δημιουργία Δημόσιου Κλειδιού μπορεί να πραγματοποιηθεί στη διεύθυνση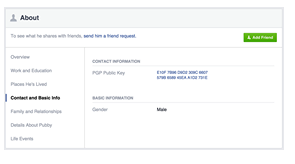 Όταν ενεργοποιηθεί η κρυπτογράφηση της επικοινωνίας τα εξερχόμενα ηλεκτρονικά μηνύματα του Facebook θα υπογράφονται απο το αντίστοιχο Ιδιωτικό Κλειδί της εταιρείας έτσι ώστε να διασφαλιστεί η αυθεντικότητα των μηνυμάτων. Η επιβεβαίωση μπορεί να πραγματοποιηθεί λαμβάνοντας το Δημόσιο Κλειδί της εταιρείας Facebook απο τους servers  SKS and MIT.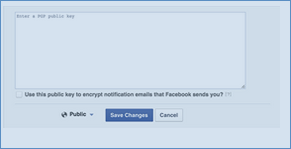 Περισσότερες Πληροφορίες:
https://www.facebook.com/notes/protect-the-graph/securing-email-communications-from-facebook/1611941762379302
Το Εργαστήριο Ασφάλειας Πληροφοριών και Προστασίας Κρίσιμων Υποδομών (CIS) του Οικονομικού Πανεπιστημίου Αθηνών (ΟΠΑ) και το Greek ICT Forum έχουν την τιμή να προσκαλέσουν, εσάς και τους συνεργάτες σας, στο 1ο Ετήσιο Συνέδριο ICT SECURITY WORLD το οποίο θα διεξαχθεί την Τετάρτη 4 Μαρτίου 2015 στο Εθνικό Κέντρο Δημόσιας Διοίκησης και Αυτοδιοίκησης, Πειραιώς 211, Ταύρος με θέμα: "Enforcing Security – Respecting Privacy"
Για δηλώσεις συμμετοχής πιέστε ΕΔΩ
Για να δείτε το Πρόγραμμα και Πληροφορίες για το Συνέδριο πατήστε ΕΔΩ
Ώρα προσέλευσης 08:30
*Στους Συμμετέχοντες θα δοθούν και Βεβαιώσεις Παρακολούθησης και Πιστοποιητικά CPE (Continuing Professional Education)
Η Symantec ισχυρίζεται  ότι έχει ανακαλύψει ένα από τα πιο εξελιγμένα κομμάτια  κακόβουλου λογισμικού που έχει συναντήσει ποτέ.
Αναφέρει ότι το Regin, όπως ονομάστηκε το κακόβουλο λογισμικικό, πιθανότατα δημιουργήθηκε από μια κυβέρνηση και έχει χρησιμοποιηθεί ως εργαλείο κυβερνο-κατασκοπείας για έξι χρόνια ενάντια σε μια σειρά από στόχους σε όλο τον κόσμο.
Περισσότερες πληροφορίες εδώ
Posted by infosec on 10/11/2014
Comments Off

on Beta Version of Access Control Policy Tool (ACPT)
Η χρήση του αλγόριθμου SHA-1 για το Διαδίκτυο έχει κατακριθεί από το 2011, όταν το CA / Browser Forum, το οποίο απαρτίζεται απο τους δημιουργούς των κορυφαίων web browsers αλλά και αρχές έκδοσης πιστοποιητικών (CA) που εργάζονται μαζί για να καθορίσουν τις βασικές απαιτήσεις ασφάλειας για τα πιστοποιητικά SSL, δημοσίευσ τις Βασικές Απαιτήσεις για το SSL . Αυτές οι απαιτήσεις συνιστούσαν όλες τις CA Authorities να εγκαταλείψουν τη χρήση του SHA-1 και να μεταβούν σε ασφαλέστερο πρωτόκολλο , το συντομότερο δυνατόν, ενώ ακολούθησαν παρόμοιες εκδηλώσεις και ενέργειες και σε άλλους τομείς και οργανισμούς όπως για παράδειγμα ο ΝIST ο οποίος εγκατέλειψε τον SHA-1 για κυβερνητική χρήση απο το 2010.
Αυτός είναι ο λόγος για τον οποίο o Chrome Web Browser θα ξεκινήσει η διαδικασία της εγκατάλειψης του SHA-1 (όπως χρησιμοποιείται στις υπογραφές πιστοποιητικών για HTTPS) με την έκδοση Chrome 39 το Νοέμβριο. Οι HTTPS ιστοσελίδες οι οποίες χρησιμοποιούν πιστοποιητικό SHA-1 το οποίο έχει ισχύ μέχρι και μετά την 1 Ιανουαρίου του 2017 δεν θα εμφανίζεται πλέον ως πλήρως αξιόπιστο στην διεπαφή χρήστη του Chrome.
Περισσότερες πληροφορίες εδώ